Sign Up Now - FlashForge Finder 3D Printer 1 Day Workshop Class!
Purchase class in store HERE
*Use coupon code: DDD3DPRINT at time of checkout to get $270.00 off of the Finder class.
Dulaney Drafting And Design offers classes for people interested in 3D printing, and 3D design. Our 3D educational classes are offered in the Rockford, Illinois area. Dulaney Drafting and Design offers one day workshops on how to use a 3D printer and included with this workshop is a new 3D printer.
If you are interesting in 3D printing and 3D design please contact us about our classes and our class schedule.
info@dulaneydraftinganddesign.com
Dulaney Drafting And Design has been into the 3D printing field of 3D printing for over 10 years and have been doing 3D design for over 15 years.
CLASSES OFFERED:
Getting Started in 3D Printing:
"What is 3D Printing?" Learn the basics of 3D printing. Perfect starter course for someone with no knowledge of 3D printing or 3D printers. Learn what is 3D printing, basic process knowledge, material types, and cover various types of 3D printers and what printer is good for the beginner. This is a good class for someone thinking of purchasing a 3D printer.
Class Cost: $39.00
Flash Forge Finder 3D Printer Class:
A New Flash Forge Finder 3D printer comes with this class. 1 day workshop class design to get you started in 3D printing. Lear how to un-box properly, set up your Finder printer to print, and how to make your first print using your new 3D printer! Learn how to slice and configure 3D models for 3D printing. Learn how to use the basic functions of the slicer that comes with the Flashforge Finder printer.
In this 3D printer workshop you will be printing multiple 3D models with your new FlashForge printer. You will learn how to analyze failed prints and learn how to improve your 3D prints using your new Finder 3D printer.
3D Printing Topics Covered:
Introduction to FlashForge Finder and Precautions of Use

In Class Un-boxing and Assembly of Finder Printer

3D Printing Terminology

Advanced Leveling of Build Plate and Test Prints

Installing and Using FlashPrint Slicing Software

Slicing of 3D Models in FlashPrint

Learn FlashPrint Program Functions and How to Use It.

Students will Print Multiple 3D Models as Examples of Various Print Types.
Class Includes:
(1) Flash Forge Finder 3D Printer, (1) Roll of PLA filament, 2 GB SD Memory card, tool kit, USB Cable, and Class Materials including Binder, Book, CDs, and a Certificate of Completion.
FlashForge Finder Class Cost: $999.00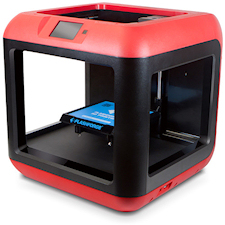 All students will leave with a NEW FlashForger Finder 3D Printer!
Finder Class Requirements:
*Bring a working laptop for class. All other class items required will be supplied.
**Must have some basic knowledge of 3D printing and must be able to follow directions and have basic computer skills. "Getting Started In 3D Printing" Class may be helpful before attending FlashForge Finder Workshop Class. Download "Getting Started in 3D Printing" Class will be available soon!